Winter Tourism at Kedarnath opposed by Priests, Wildlife experts
---
---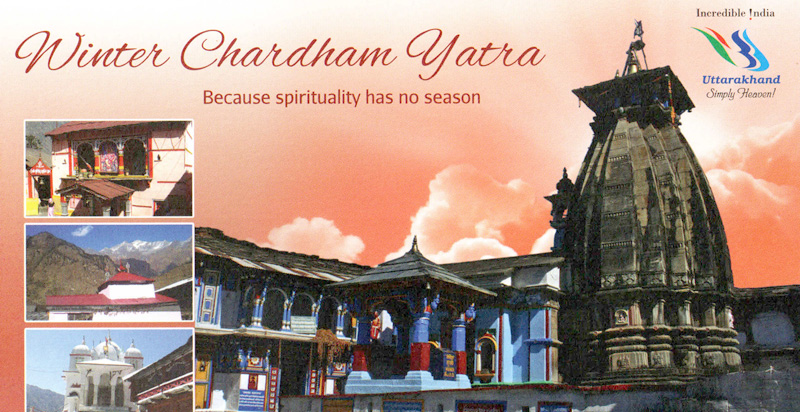 Winter Char Dham Yatra
Char Dham Yatra in Winters
---
---
The State Govt plan for promoting Winter Tourism at Kedarnath Dham has hit a roadblock. Priest community and Wildlife scientist has put hurdle in Winter Tourism festival schedule to organise from 25 Feb to 29 Feb 2016. Priest put their foot down protesting any celebrations during the closing time of portals. Wildlife scientist also expressed reservation saying winter months are critical period for wildlife.
Now Disaster Preparation & High Altitude Rescue Demostration
The state govt has now converted winter tourism festival into "Disaster Preparedness and Awareness Week" demonstrating disaster preparedness and reconstruction work at Kedarnath.
The visitors will get to know various techniques of high altitude rescue work demonstrate by Members of Nehru Institute of Mountaineering and State Disaster Response Force. One can also will get to know the ongoing reconstruction projects in Kedarnath valley. Instead of skiing, trekking will be allowed in valley under the trekking experts.
Hurdles behind Winter Tourism in Kedarnath
Priest community of Kedarnath put forward their opposition as per the Hundu religion beliefs. No event and celebrations should hold at any of Dhams as during these 6 months gods rests at their abodes. Scientists prove their point by saying that winter months are stressfull for wildlife due to mating and lack of food. The noise in their core areas will disturbed them further.
News Src : Dehradun, TOI
---
---
Published Date: February 4, 2016
---
Add Comments and Suggestions or Ask Questions about "Winter Tourism at Kedarnath opposed by Priests, Wildlife experts"
We would be glad if you can comment below and provide your valuable suggestions and feedback on Winter Tourism at Kedarnath opposed by Priests, Wildlife experts. If this Winter Tourism at Kedarnath opposed by Priests, Wildlife experts page have any wrong information/list or out of context content, then you can report us as well.
If you have any questions, you can also ask as in the following comments section. Our team will try to provide you answers/solutions.