Portals of Yamunotri Temple Closed for winters
---
---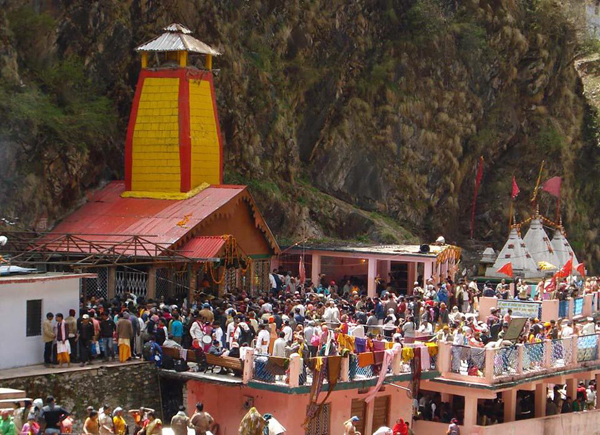 Yamunotri Temple
Yamunotri Temple
The doors of Yamunotri shrine has been closed for the winter on Tuesday, 29 October 2019. On the last day of the journey, hundreds of pilgrims visited Yamunotri Dham. According to religious traditions, the portal of Yamunotri Dham has been closed for 6 months at 12:25 pm with the secret mantra.
---
---
---
---
Yamunotri Temple closed to the public for winters
Chief Priest of Yamunotri Temple and Other priests of the temple had done all the rituals. From morning 6 am, Worship of the temple had been started. Goddess Yamunotri was invoked with the secret mantra. Religious processes in Dham lasted till noon.
Goddess Yamunotri will be worshipped in Kharsali Uttarkashi during the winter season
On Tuesday, on the holy festival of Bhaiya Dooj, the chief priest performed the pooja on closing ceremony. The shrines were closed after the worship and all the rituals performed by the Tirtha Purohit. After that, the Utsav Doli of Maa Yamuna headed by the Doli of God Shanidev left for her winter sojourn Khushimath (Kharsali). In the evening the doli of Goddess Yamuna reached Kharsali where after offering prayers, idol of Goddess Yamuna placed in the temple at her winter stay.
---
---
Published Date: October 30, 2019
---
Add Comments and Suggestions or Ask Questions about "Portals of Yamunotri Temple Closed for winters"
We would be glad if you can comment below and provide your valuable suggestions and feedback on Portals of Yamunotri Temple Closed for winters. If this Portals of Yamunotri Temple Closed for winters page have any wrong information/list or out of context content, then you can report us as well.
If you have any questions, you can also ask as in the following comments section. Our team will try to provide you answers/solutions.