Chardham Yatra 2020: Yamunotri Temple Open to Devotees
---
---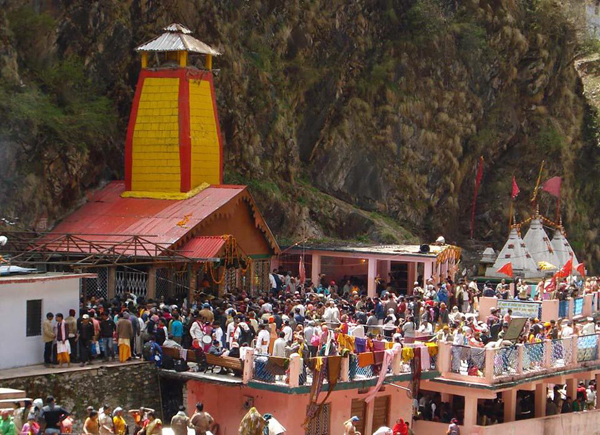 Yamunotri Temple
Yamunotri Temple
---
---
Yamunotri temple gates are open today at 12:41 pm for devotees. On Sunday, on the sacred day of Akshaya Tritiya, the door of Yamunotri Dham was open at 12:41 pm after all the religious rituals. At the same time, the door of Gangotri Dham was also be opened for the devotees at 12:35 pm.
Yamuna's Doli, from Kharsali, the winter migration point of Yamuna, left for Yamunotri under the leadership of Shani Dev. On Sunday morning, at 09:00 am Yamuna's Doli was expelled from the Yamuna temple in Kharsali. After this, he left for Yamunotri at 09:05 am.
Social Distancing was also maintained during the Opening Ceremony
This time only 21-21 Tirtha Purohit could attend the Opening Ceremony because of the lockdown restrictions due to the possibility of Corona infection. The same provision was made for Doli Yatra. The social distancing was also followed during the Doli Yatra. DM Dr. Ashish Chauhan and Superintendent of Police Pankaj Bhatt said that Char Dham Yatra is still banned. Even on Sunday, only two people carried the doli. Two to three more people left for Dham after making social distance with them.
Due to the lockdown restrictions, no devotees are currently allowed in the Dham. Barring a limited number of pilgrimage priests, no one is allowed to go to the Dham for all the worships.
---
---
Published Date: April 26, 2020
---
Add Comments and Suggestions or Ask Questions about "Chardham Yatra 2020: Yamunotri Temple Open to Devotees"
We would be glad if you can comment below and provide your valuable suggestions and feedback on Chardham Yatra 2020: Yamunotri Temple Open to Devotees. If this Chardham Yatra 2020: Yamunotri Temple Open to Devotees page have any wrong information/list or out of context content, then you can report us as well.
If you have any questions, you can also ask as in the following comments section. Our team will try to provide you answers/solutions.