Badrinath highway resume after 17 hours
---
---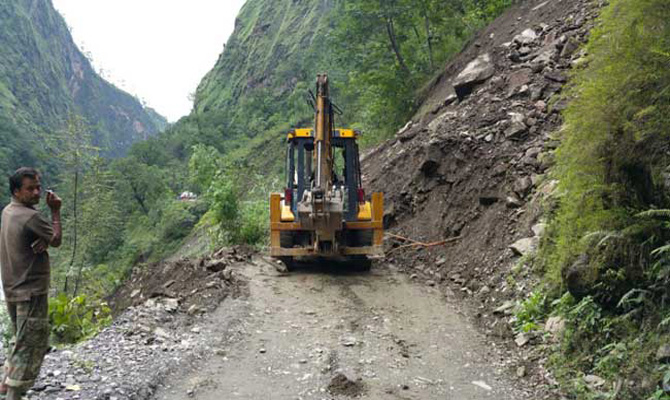 Kedarnath route resume but heavy rain forecast by MET
---
---
Badrinath national highway has finally been reopened for traffic on Friday morning. The highway had been blocked for over 17 hours due to a massive landslide triggered by heavy rainfall in Uttarakhand's Chamoli district. This unfortunate incident left hundreds of pilgrims stranded, forcing them to spend the night in their vehicles. The blockade, which began around 10 am on Thursday, came to an end at 3.30 am on Friday, as confirmed by Ravindra Negi, the additional information officer of Chamoli. Authorities swiftly prioritized the clearing of vehicles returning from Badrinath and Hemkund Sahib.
The local administration took immediate action to assist the stranded pilgrims, arranging accommodations and providing food in nearby locations such as Birhi, Chamoli, and Pipalkoti. Their well-being and safety were of utmost concern during this challenging time. The landslide, which occurred at approximately 9:50 am near Chhinka, resulted in a 100-meter stretch of the highway being affected. This led to a substantial traffic jam, leaving over 10,000 pilgrims stranded for hours, according to officials. Efforts were made to ensure the welfare of the stranded pilgrims, who were both en route to Badrinath and Hemkund Sahib. The district administration provided food and water to those stuck at the site of the landslide, while water tankers were stationed to supply drinking water.
Although the pilgrims experienced a delay in their journey, it is reassuring to know that they remained secure throughout this challenging situation. The local authorities worked diligently to address the immediate needs of the affected individuals with the reopening of the Badrinath national highway, normal traffic flow has resumed, allowing pilgrims and other travelers to proceed with their journeys. However, caution should be exercised as the region continues to experience heavy rainfall, which may pose additional risks. Stay tuned for further updates on the situation.
News Src : ABP News Bureau
---
---
Published Date: July 1, 2023
---
Add Comments and Suggestions or Ask Questions about "Badrinath highway resume after 17 hours"
We would be glad if you can comment below and provide your valuable suggestions and feedback on Badrinath highway resume after 17 hours. If this Badrinath highway resume after 17 hours page have any wrong information/list or out of context content, then you can report us as well.
If you have any questions, you can also ask as in the following comments section. Our team will try to provide you answers/solutions.