Badrinath highway resume after 20 hours
---
---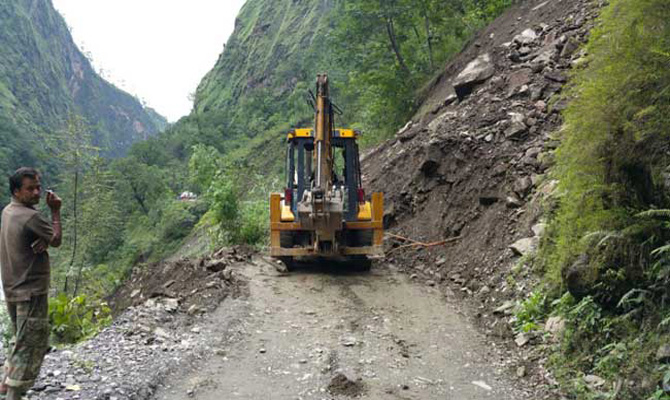 Kedarnath route resume but heavy rain forecast by MET
Due to heavy rainfall the Badrinath highway was blocked for 20 hours. The passengers were stranded on the route to Badrinath. Although passenger felt relax after resumeing the blocked highway by the BRO. Sunday evening at five o'clock Lambagad sewer and Lambagad landslide zone, Benakuli landslide had closed the highway. After this Methana, Chinka and Patalganga were also closed due to the whole night downpour. BRO was having difficulties to clean and open the highway due to continuous rainfall.
However, after ten o'clock the weather began to clear and highway was open. However after one o'clock including Benakuli and Lambagad the other routes were start smooth functioning. Although near Mathana landslide zone, highway found open after three o'clock. But during this contact the Nandprayag Sakott routes were smooth. Due to disturbed weather, a holiday was declared from class one to eight. Meanwhile the Hemkund yatra is smooth, 150 devotees left Govindghat in the morning. While at Badrinath Dham 200 passenger have reached for visit the shrine.
News Src : Jagran, Gopeshwar
---
---
Published Date: August 10, 2015
---
Add Comments and Suggestions or Ask Questions about "Badrinath highway resume after 20 hours"
We would be glad if you can comment below and provide your valuable suggestions and feedback on Badrinath highway resume after 20 hours. If this Badrinath highway resume after 20 hours page have any wrong information/list or out of context content, then you can report us as well.
If you have any questions, you can also ask as in the following comments section. Our team will try to provide you answers/solutions.