Chardham Yatra Restarts as Weather Ceared Today
---
---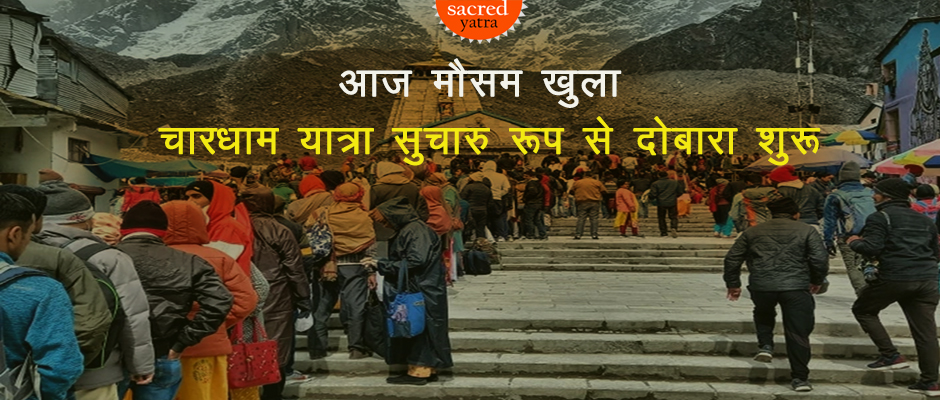 Chardham Yatra restarts as weather cleared today
The administration started the Kedarnath Yatra as soon as the weather cleared on Wednesday morning. Passengers were sent to Dham on foot from Sonprayag. Along with this, helicopter service has also become smooth. Nine companies are providing heli service in Yatra. At the same time, the Chief Justice of the Supreme Court also came to see Baba Kedar. He worshiped here and took the blessings of Baba Kedar.
---
---
---
---
Passengers started being sent to Kedarnath Dham from eight in the morning. 7220 pilgrims were sent from Sonprayag to Kedarnath Dham and from Gaurikund 7800. The administration is regularly monitoring the passengers at the travel stops. Earlier on Tuesday, due to seven hours of snowfall in Kedarnath and rain in low-lying areas, the yatra was stopped. During this, the passengers staying in the Dham were sent to the low-lying areas.
After four o'clock in the evening, there was a line for darshan in the temple when the weather improved in Kedarnath. On the other hand, in view of the heavy rains, the administration had also stopped the Yamunotri Dham Yatra. Kedarnath Yatra had started from 6 am on Tuesday. During this, 6500 devotees from Sonprayag left for the Dham on foot. It started raining in Kedar Ghati including Sonprayag but by 8 am 7810 and by 9.30 pm 10470 pilgrims had left for the Dham. Thereafter, the yatra was stopped at Sonprayag due to heavy rains.
On the other hand, in view of heavy rains in Uttarkashi, the administration had stopped the Yamunotri Dham Yatra. The administration stopped the pilgrims at Jankichatti only after 12:30. SDM Barkot Shalini Negi said that in view of the safety of the passengers, the pilgrims of Yamunotri Dham were stopped at Jankichatti.
---
---
Published Date: May 25, 2022
---
Add Comments and Suggestions or Ask Questions about "Chardham Yatra Restarts as Weather Ceared Today"
We would be glad if you can comment below and provide your valuable suggestions and feedback on Chardham Yatra Restarts as Weather Ceared Today. If this Chardham Yatra Restarts as Weather Ceared Today page have any wrong information/list or out of context content, then you can report us as well.
If you have any questions, you can also ask as in the following comments section. Our team will try to provide you answers/solutions.