How to Travel Panch Kedar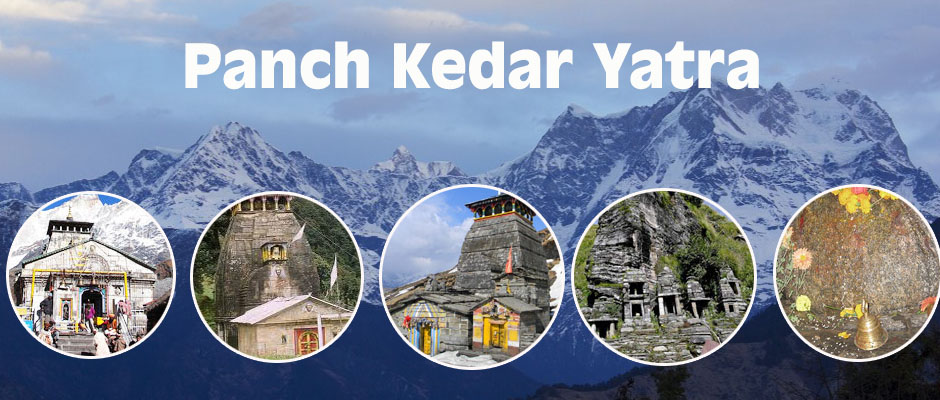 Panch Kedar Yatra
The Panch Kedar refers to five places of the Shaivite or the five Hindu Holy Temples dedicated to Lord Shiva. These five temples of Lord Shiva are located in the Garhwal Himalayas of Uttarakhand. The Panch Kedar has 5 temples of Lord Shiva namely
Kedarnath
,
Rudranath
,
Madmaheshwar
,
Kalpeshwar
and
Tungnath
. Travelling to Panch Kedar needs you to have all the necessary information that includes the details about travelling to the Panch Kedar. The
Panch Kedar
is a long journey in the Himalayas; it was built by the Pandavas the heroes of the Mahabharata. The Panch Kedar is a minimum journey of 15 to 16 days. To know About
How to Travel Panch Kedar
keep reading.
Best Time to Travel to Panch Kedar
The Panch Kedar opens for a period of 6 months, generally from the months of April to October. The Best Time to Travel to Panch Kedar is usually in the month of May, June, September and October.
Panch Kedar during winters is closed because of the snow cover. The idol of Lord Shiva from Kedarnath is shifted to Omkareshwar temple at Ukhimath and is worshipped there for the other 6 months. The representational idol of Tungnath is worshipped at Mukkumath. The symbolic image of Rudranath is brought at Gopeshwar and the symbolic idol of Madhyamaheshwar is honored at Ukhimath. It is only Kalpeshwar is open throughout the year.
Although if you are an avid trekker you can go during the winters but you got to be well equipped with food and good trekking gears. Winters in the Himalayas is absolutely ravishing, dolled up with a vegetation and décor which is absolutely incredible.
How To Visit Panch Kedar
Travelling to Panch Kedar involves travelling through road and by foot both. It is a 16 day long journey which will take you on an expedition in the Himalayas. To travel in the Panch Kedar you can hire a taxi for most part of your journey and trek to the rest of the journey which is to be travelled by foot. You will also have to visit Badrinath to pay homage to Lord Vishnu as a final affirmatory proof by the devotee that he/she has sought blessings of Lord Shiva. Below is a route map that you give you The Panch Kedar travel Details from New Delhi.
New Delhi to Haridwar (210km/4-5 hrs approx)– Travel till Haridwar from New Delhi through railway or roadway.
Haridwar to Rudraprayag (165km/6 hrs approx)– Drive till Rudraprayag, on the way you can visit Devprayag.
Rudraprayag to Kedarnath (75km/3 hrs drive & 14km trek)– Drive till Gauri Kund (73 km approx) from Rudraprayag while passing from Guptkashi. From Gauri Kund trek to Kedarnath on foot a 5-6km trek.
Kedarnath to Guptakashi (30km/1 hr drive & 14km trek)– From Kedarnath trek down till Gauri Kund and further from Gauri Kund travel till Guptkashi.
Guptkashi to Gaundhar (17km trek/ 8 hrs approx)– Move towards Gaundhar which is at an approx distance of 7km from Uniana from where the trek to Madhmaheshwar begins.
Gaundhar to Madhmaheshwar (17km/6 hrs approx)– Gaundhar is basically a point of halt for the pilgrims who move towards Madhmaheshwar, further continue on a trek of 12km to reach at Madhmaheshwar.
Madhmaheshwar to Gaundhar (17km trek/8 hrs approx)– Trek down till Gaundhar from Madhmaheshwar and move towards Ukhimath to continue your journey.
Gaundhar to Ukimath (12km trek/6km hrs approx & 16km drive)– A 12 km trek to Jagasu from Gaundhar and a 16km drive will lead you to Ukhimath.
Ukimath to Chopta to Tungnath (35km/1 hr drive & 14 km trek)– From Ukhimath travel till Chopta a 1 hour drive and then further continue on a 14 km trek to Chopta.
Chopta to Panargupha to Rudranath (30km/1 hr drive & 22 km trek)– From Chopta drive till Sagar and then further 10 km trek till Panargupha, you can take a halt at Panargupha and then continue on a 12 km trek to Rudranath.
Rudranath to Dumuk (18km trek/8 hrs approx)– trek down from Rudranath to Dumuk where you can take a halt and rest if you want.
Dumuk to Kalpeshwar Mahadev (14km trek & 7 hrs approx)-Start your trek to Urgam/Kalpeshwar Mahadev and do the darshan there.
Kalpeshwar Mahadev to Helang (3km trek/13 km drive approx)– Trek down from Kalpeshwar Mahadev and go on a 13km drive till Helang.
Helang to Badrinath (35km)-Travel till Joshimath from Helang a 14 km drive. From Joshimath drive till Hemkund and from Hemkund travel till Badrinath.
Badrinath to New Delhi (532km/ 10hrs approx)– Travel back to New Delhi after completing your Panch Kedar Yatra.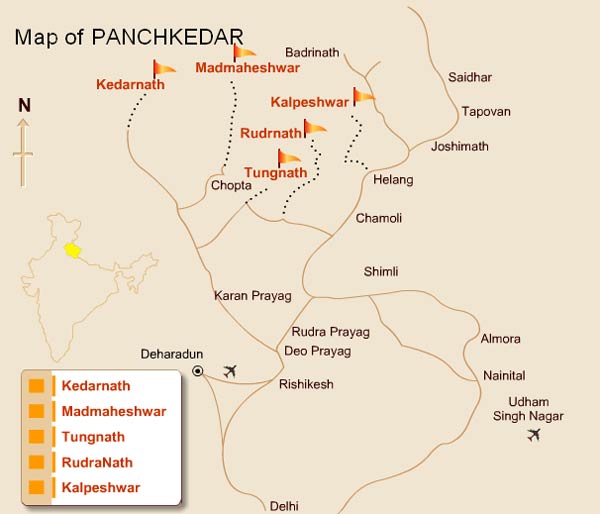 Tips to Travel at The Panch Kedar
When Travelling to the Panch Kedar, make sure you are physically fit as this journey requires you to be in the optimum state of health.
Pack the essential things you need in Panch Kedar such as power banks, important medicines, creams, energy bars, heavy to light woolen clothes depending on the travel month you choose.
The Panch Kedar is open for only 6 months except Rudranath which is accessible throughout the year.
The Panch Kedar is a long journey to be covered therefore plan your journey early in the mornings to visit all the Panch Kedar on an appropriate time.
With this we wish the divine may shower you with all the divinity. Before travelling to the Panch Kedar make sure you thoroughly go through this Travel Guide of Panch Kedar.
---
---