NIM Tent Colony in Kedarnath
---
---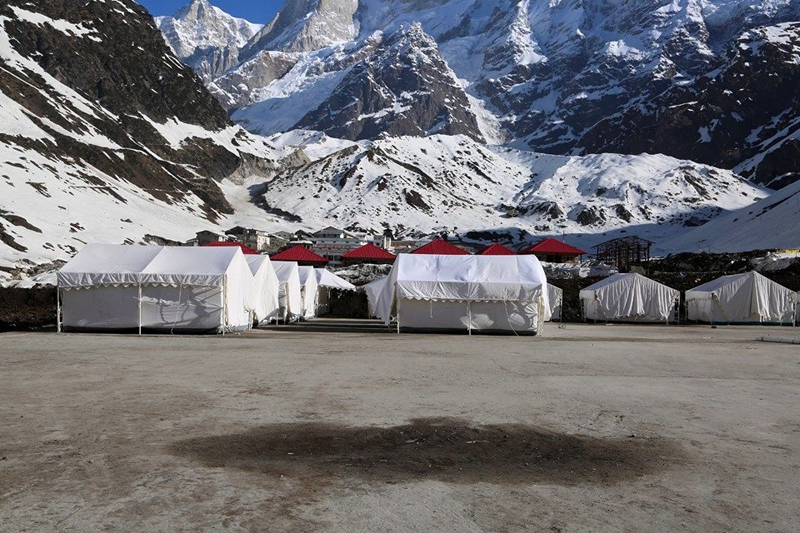 Closer View of Tents in Kedarnath
Closer View of Tents in Kedarnath (Src: NIM)
---
---
Latest Update : Advance Book Tents in Kedarnath
A hotel like Tent Colony is being prepared by NIM Team in Kedarnath, for providing accommodation to tourists in this Char Dham Season. There will be total 100 tents out of which 70 has been prepared.
The portals of the Kedarnath Temple were opened on April 24, 2015, and Nehru Institute of Mountaineering (NIM) Team working day and night to make it feasible and comfortable for pilgrims.
Each camp is spacious enough for 10 people to stay. Special features of this Tent colony is that it will be equipped with reception counter, houskeeping staff, cook, cozy bedding, delicious food and other luxuries which are provided in a hotel, along with sleeping bags.
Colonel Ajay Kothiyal, principal of Nehru Institute of Mountaineering, said the Rambara to Kedarnath route was ready for pilgrims. Ponies carried the first load on this route to the Chaani camp in Kedarnath, indicating the route was safe for the pilgrims, he added.
Pictures of Tent Colony in Kedarnath
Aerial View of Camps (Src: NIM)
Another Aerial Picture of Kedarnath Tent Colony (Src: NIM)
NIM Tents in Kedarnath (Src: NIM)
Tents Colony by NIM for Tourists Pilgrims (Src: NIM)
Washroom for tourists (Src: NIM)
Photo Source: NIM (Pride of Uttarakhand)
---
---
Published Date: April 23, 2015
---
Add Comments and Suggestions or Ask Questions about "NIM Tent Colony in Kedarnath"
We would be glad if you can comment below and provide your valuable suggestions and feedback on NIM Tent Colony in Kedarnath. If this NIM Tent Colony in Kedarnath page have any wrong information/list or out of context content, then you can report us as well.
If you have any questions, you can also ask as in the following comments section. Our team will try to provide you answers/solutions.