Online Chardham Darshans & Pooja facility will be soon
---
---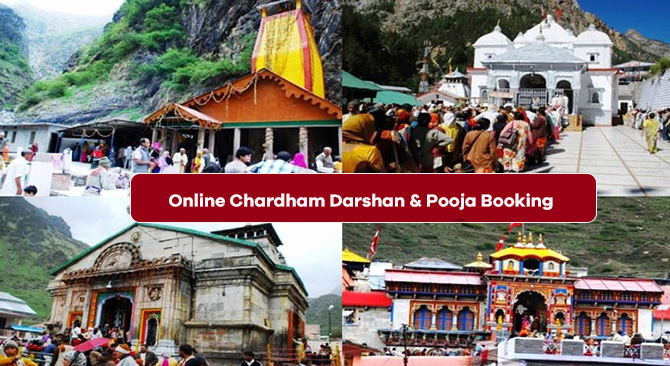 Online Chardham Darshan & Pooja Booking
Now pilgrims will soon have the facility of Chardham online darshan of sacred Chardham shrines. Administration is going to provide Online Chardham temples darshan. One could get the Online Darshan of Chardham temples and audio Puja facility direct from home.
---
---
---
---
The Chardham Yatra has been postponed this year by the government, keeping in mind the increasing cases of Corona infection and the safety of pilgrims around the world. In this time of crisis, the government is preparing to give a virtual darshan of Chardham for the devotees, respecting the sentiments of the devotees. By which people sitting at home will be able to get Chardham darshan. In this regard, Tourism Minister Satpal Maharaj also discussed with Chief Minister Tirath Singh Rawat.
By arranging virtual darshan of Yamunotri, Gangotri, Kedarnath and Badrinath, devotees desirous of darshan of the Char Dhams will be able to offer prayers through online darshan and audio of the rest of the temple premises except sanctum sanctorum.
On Thursday, Tourism Minister Satpal Maharaj directed Ravinath Raman, CEO of Chardham Devasthanam Board, to make arrangements for online darshan of Char Dham. The Tourism Minister said that keeping in mind the safety of pilgrims from India and abroad, it has been decided by the State Government to postpone the Chardham Yatra due to Covid-19.
Virtual Darshan of Char Dham
Respecting the spirit of the devotees, instructions have been given to make arrangements to have a virtual darshan of Chardham. With which the pilgrims will be able to perform a virtual darshan of Chardham along with worship and perform aarti while staying safe at home in the coronary.
This year Yamunotri Dham kapat will open on Akshaya Tritiya on May 14 at 12.15 am and Gangotri Dham kapat will open on May 15 at 7.31 am. While the doors of Kedarnath will open at 5 am on May 17 and the doors of Badrinath Dham will open at 4.15 am on May 18.
The doors of the Chardham will be opened on the scheduled dates. Garhwal Commissioner and Uttarakhand Devasthanam Board Chief Executive Officer Ravinath Raman said that pilgrimage priests and rightful persons belonging to the puja tradition in the Char Dham Temples will be allowed to go only after showing the corona negative report.
At the same time, passengers who had made advance booking for Kedarnath Heli service, will now be refunded the booking money. As per the order, the remaining amount will be deposited in the bank accounts of the passengers, leaving a processing fee of Rs 200. So far, more than 11000 passengers had booked heli-service.
---
---
Published Date: May 14, 2021
---