Second Kedar, Madmaheshwar Dham will open today
---
---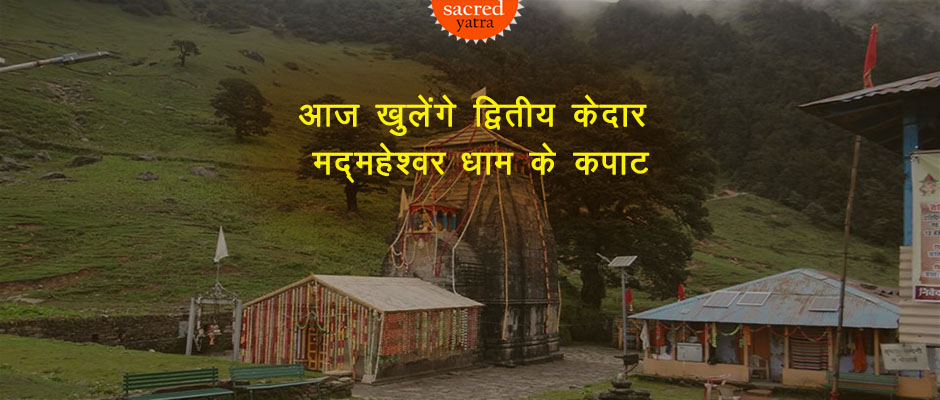 Opening of Madmaheshwar Dham
The kapaat of the second Kedar, Lord Madmaheshwar, will be opened today at 11 am with Vedic hymns. Due to Corona infection, only a limited number of administrations, police and Hak-Hakukdharis will be present at the opening of Madhyamaheshwar Dham. After this, the worship of Lord Madmaheshwar will be done at Madmaheshwar Dham for next six months.
---
---
---
---
Priest Shiva Linga of Madhmaheswar Dham offered obeisance to Lord Madmaheshwar in Rakeshwari temple at Ransi village on Sunday morning. At the same time, the second arti of the Lord Madmaheshwar with mother Rakeshwari was performed. Doli, the moving deity of the Second Kedar, departed for its abode after the circumambulation of the Rakeshwari temple at 6.30 am.
During this, the villagers of Ransi village bid farewell to their Ishta Dev from their homes. Baba Madmaheshwar's moving deity Utsav Doli reached Goundar village at 8.30 am on its last night stay, passing through a six km thick forest.
The second Kedar doli will depart from Goundar village for Madmaheshwar Dham at around 6 am on Monday morning. The second Kedar will reach its abode after walking 12 km via Bantoli, Khunu, Khatra. Where the doors of Madmaheshwar Dham will be opened at 11 am. Tehsildar Dewan Singh Rana, SI Punit Dasouni, Revenue Inspector Jayakit Rawat, Doli in-charge Anoop Pushpavan, Umed Negi, Shiv Singh Rawat, Madan Panwar, Veer Singh Panwar etc. were present on the occasion.
---
---
Published Date: May 24, 2021
---
Add Comments and Suggestions or Ask Questions about "Second Kedar, Madmaheshwar Dham will open today"
We would be glad if you can comment below and provide your valuable suggestions and feedback on Second Kedar, Madmaheshwar Dham will open today. If this Second Kedar, Madmaheshwar Dham will open today page have any wrong information/list or out of context content, then you can report us as well.
If you have any questions, you can also ask as in the following comments section. Our team will try to provide you answers/solutions.