Chardham Yatra now open for all, Devotees must have Negative Covid-19 report
---
---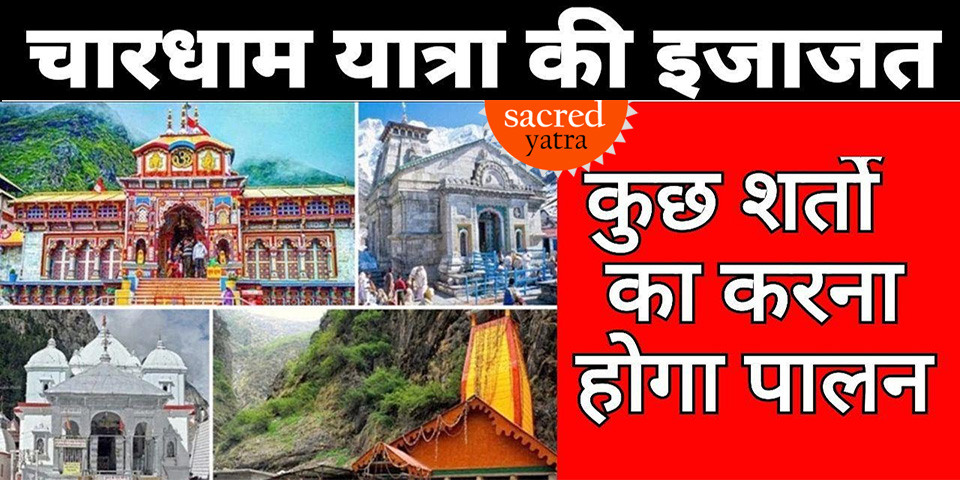 Chardham Yatra open for devotees
Uttarakhand government now has open the conditional Chardham Yatra for devotees from outside states as well. Till now only the devotees of Uttarakhand were allowed to visit. The government has also made it clear that during Chardham Yatra 2020 other general orders regarding Covid 19 will also be applicable.
---
---
---
---
On Friday, Ravinath Raman, Chief Executive Officer of Uttarakhand Chardham Devasthanam Management Board said that now devotees from outside states will also be allowed to visit Chardham Yatra in the state, but they should have RT-PCR negative report up to 72 hours before coming to Uttarakhand.
Check Latest Pujas Rates in Kedarnath | Check Latest Pujas Rates in Badrinath
Covid 19 negative report to be uploaded on website for Yatra ePass
All pilgrims who want to visit Chardham Temples i.e Badrinath, Kedarnath, Yamunotri & Gangotri will have to register on the website of the Devasthanam Management Board. They will also have to upload their ID, Covid 19 Negative Report on the website along with registration. Those devotees who have reached Uttarakhand and completed the prescribed quarantine period, can also travel.
Apart from this, it will also be mandatory to keep the original copy of the documents uploaded on the website. The devotees who have completed the quarantine period will upload their photo IDs on the website and get their Yatra epass and will be able to visit the temples. The government has taken this step with the objective of strengthening the pilgrimage and tourism business.
Click Here To Register, Get e-Pass for Chardham Yatra
Covid winners from outside states allowed to enter the state
CM Trivendra Singh Rawat said that if a Covid winner from outside states wants to come to roam in Uttarakhand, then there will be no restriction for them. They will be allowed to come to the state.
This will give a boost to tourism activities in the state and people who have been healthy by winning the war from Corona can enjoy the climate of Uttarakhand. Chief Minister said that it has been decided to allow people who have been cured of Corona infection from outside states to come to the state.
There will be no investigation nor quarantine of those who won the battle from Corona. The government has allowed tourists visiting Uttarakhand who have tested negative for Covid 19 from ICMR-accredited labs up to 72 hours.
If a tourist comes without checking, he will have to book the hotel for seven days and stay in the hotel for seven days. Only then can they go to other areas of the state.
Click Here to Know How To Buy Kedarnath Prasad Online
---
---
Published Date: July 25, 2020
---