5000 Pilgrims can stay in Kedarnath Dham
---
---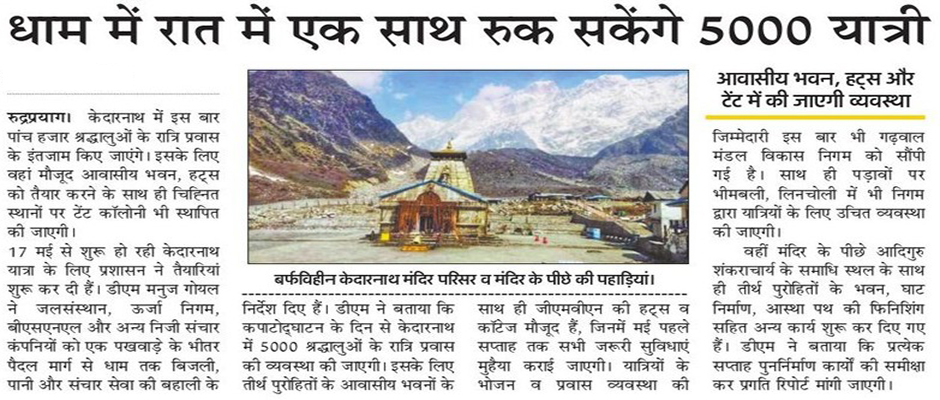 How Many Pilgrims can stay in Kedarnath Dham
Arrangements for 5000 pilgrims will be made for the night stay at Kedarnath Dham this year. For this, along with preparing the residential buildings, GMVN huts and tents colony in Kedarnath will also be established at the identified places.
The administration has started preparations for the Kedarnath Yatra starting from 17 May. DM Manuj Goyal has directed the Jal Sansthan, Urja Nigam, BSNL and other private communication companies to restore power, water and communication services from the pilgrims visiting Kedarnath Dham.
---
---
---
---
The DM said that for the day of opening of Kedarnath Dham, a night stay of 5000 devotees will be arranged in Kedarnath.
For this, along with the residential buildings of the Tirtha Purohit, there are huts and cottages of GMVN, in which all the necessary facilities will be provided by the first week of May. The responsibility of food and accommodation arrangements of the pilgrims has also been entrusted to the Garhwal Mandal Development Corporation this time. At the same time, proper arrangements will be made by the corporation for the pilgrims at Bhimbali, Lincholi.
At the same time, along with the samadhi site of Adiguru Shankaracharya behind the temple, other works have been started, including the construction of the shrine, the ghat construction, the finishing of the Aastha Path. DM informed that a review of the reconstruction works will be done every week and a progress report will be sought.
---
---
Published Date: April 5, 2021
---
Add Comments and Suggestions or Ask Questions about "5000 Pilgrims can stay in Kedarnath Dham"
We would be glad if you can comment below and provide your valuable suggestions and feedback on 5000 Pilgrims can stay in Kedarnath Dham. If this 5000 Pilgrims can stay in Kedarnath Dham page have any wrong information/list or out of context content, then you can report us as well.
If you have any questions, you can also ask as in the following comments section. Our team will try to provide you answers/solutions.