Chardham Yatra receives 90% lesser devotees since last year
---
---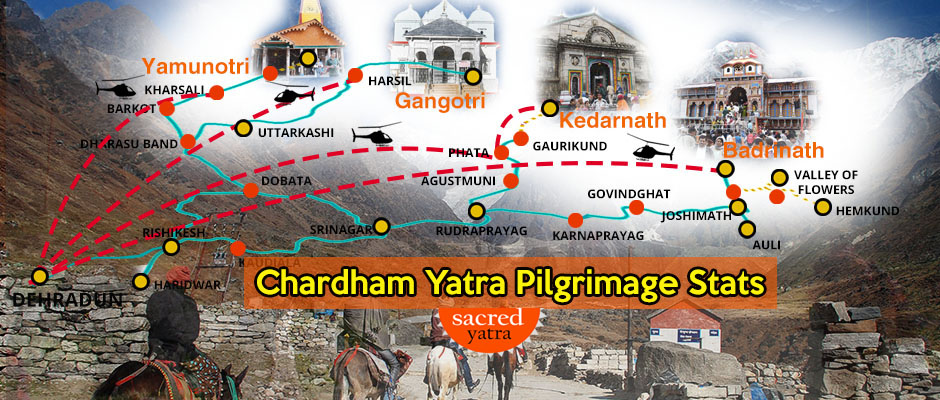 Chardham Yatra Pilgrims Stats
The Chardham Yatra for 2020 has come to an end with the closing of Badrinath Dham. This time due to Corona, less than 10 percent pilgrims reached Chardham Temples compared to last year. Last year, more than 32 lakh pilgrims visited the four dhams, but due to Covid-19 in 2020, 3.10 lakh devotees reached Chardham Yatra this year.
---
---
---
---
The Corona epidemic has had the greatest impact on tourism and pilgrimage. The Chardham Yatra started from July 1 amid the epidemic. This time more than 1.35 lakh pilgrims reached Kedarnath. While about 1.44 lakh pilgrims visited Badrinath Dham, 23,837 in Gangotri and 7,731 pilgrims in Yamunotri. However, the state government and the Uttarakhand Devasthanam Management Board have managed the safe operation of the Chardham Yatra between the corona transition.
Ravinath Raman, Chief Executive Officer of Devasthanam Management Board, said that from July 1 to November 18, a total of 3.5 lakh e-passes were issued by the board for the Chardham Yatra. Of these, 3.10 lakh pilgrims have visited Chardham Yatra.
He said that the number of pilgrims coming to Kedarnath and Badrinath has been high. Following the guidelines of Covid-19, social distancing was performed in all the four dhams. Conducting the Chardham Yatra was a major challenge amid the Covid epidemic. The efforts of the government have succeeded in making the yatra smoothly.
Chardham Yatra Stats 2019 & 2020
| Pilgrimage site | 2019 | 2020 |
| --- | --- | --- |
| Kedarnath | 10 Lac | 1.35 Lac |
| Badrinath | 12.44 Lac | 1.44 Lac |
| Gangotri | 5.30 Lac | 23837 |
| Yamunotri | 4.66 Lac | 7731 |
You can also check Complete Chardham Pilgrimages Stats with Badrinath Pilgrimages Stats & Kedarnath Pilgrimages Stats since past decades.
---
---
Published Date: November 20, 2020
---
Add Comments and Suggestions or Ask Questions about "Chardham Yatra receives 90% lesser devotees since last year"
We would be glad if you can comment below and provide your valuable suggestions and feedback on Chardham Yatra receives 90% lesser devotees since last year. If this Chardham Yatra receives 90% lesser devotees since last year page have any wrong information/list or out of context content, then you can report us as well.
If you have any questions, you can also ask as in the following comments section. Our team will try to provide you answers/solutions.