Ponies and Palkies Rates for Kedarnath Dham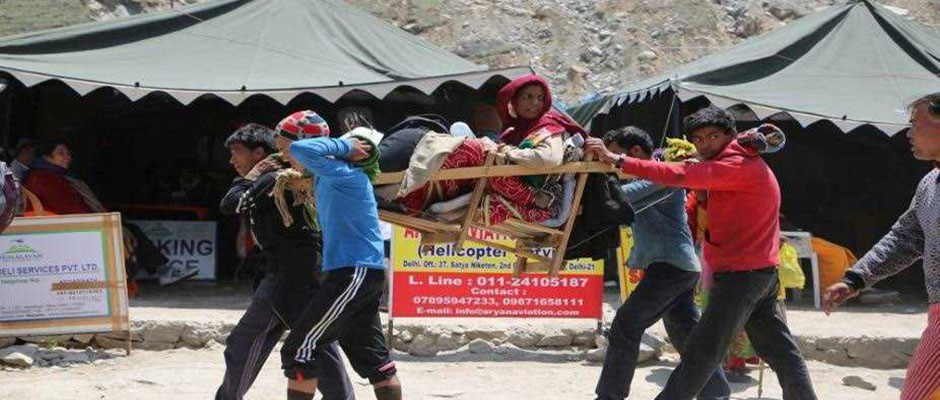 Pony Palki Dandi Kandi Rates for Kedarnath
Img Src
Kedarnath temple is a well known pilgrimage and one of the Chardhams. The revered shrine visited by lakhs of pilgrims. Kedarnath temple is located on the shore of Mandakini river at an height of 11755 ft. It is one of highest temple among 12 Jyotirlingas. The temple is not accessible by road and can be reached via Helicopter flight or trek of 16 kms from Gaurikund. There are also services of Ponies, Kandi and Dandi which can take pilgrims on a fixed price.
Ponies and Palkies Rates for Kedarnath Temple
The Ponies and Palkies for Kedarnath dham can be booked on Prepaid counters. There are number of ponies and palkies operators provide horses/ mules/ palki to pilgrims to reach Kedarnath temple from Gaurikund.
Rate List for Ponies & Palkies in Kedarnath
Dandi (Palanquin) Rates from Gaurikund to Kedarnath
From
To
Distance (in kms)
Upto 75 kgs (in INR)
Upto 90 kgs (in INR)
Gaurikund
Kedarnath
16
4550
5050
Kedarnath
Gaurikund
16
3950
4450
Gaurikund
Kedarnath & Return Back
32
7950
8450
Gaurikund
Lincholi
12
3500
4000
Lincholi
Gaurikund
12
2900
3400
Lincholi
Kedarnath
4
1500
2000
Kedarnath
Lincholi
4
1300
1800
Lincholi
Kedarnath Dham & Return Back to Lincholi
8
2300
2800
Kandi Rates from Gaurikund to Kedarnath
From
To
Distance (in kms)
Upto 25 kgs (in INR)
Upto 50 kgs (in INR)
Gaurikund
Kedarnath & Return Same Day
32
1900
3350
Gaurikund
Kedarnath & Return Next Day
32
1500
2600
Gaurikund
Lincholi
12
580
1100
Gaurikund
Bhimbali
6
340
600
Gaurikund
Kedarnath
16
740
1400
Kedarnath
Lincholi
4
220
340
Kedarnath
Bhimbali
10
400
700
Kedarnath
Gaurikund
16
580
1060
Lincholi
Kedarnath
4
260
420
Ponies Rates from Sonprayag / Gaurikund to Kedarnath
From
To
Distance (in kms)
Pony Owner Cost
Maintenance Cost
Total Cost
Sonprayag
Kedarnath
19
1700
100
1800
Sonprayag
Lincholi
16
1400
100
1500
Sonprayag
Bhimbali
11
950
100
1050
Sonprayag
Gaurikund
5
450
100
550
Gaurikund
Kedarnath
14
1300
100
1400
Gaurikund
Lincholi
11
950
100
1050
Gaurikund
Bhimbali
6
500
100
600
Gaurikund
Sonprayag
5
350
100
450
Kedarnath
Sonprayag
19
1300
100
1400
Kedarnath
Gaurikund
14
1000
100
1100
Kedarnath
Bhimbali
8
600
100
700
Kedarnath
Lincholi
3
300
100
400
Note : If any operator demand high rates than above mention rates, then complain at given numbers : Important Contact Number for Kedarnath Yatra
---
---
Published Date: November 15, 2013
Last Updated On: May 5, 2017
---